If you're dreaming riding to the backcountry like a snowboard park, then the Jones Mountain Twin Splitboard is for you. With a versatile CamRock profile and a mid-stiff flex, the Mountain Twin Split lets you lay down tricks, spins, and butters off every natural feature without sacrificing float in pow or stability for rough runouts. Built with freeride / freestyle pack inserts that let you switch up your stance as conditions change, the Mountain Twin Splitboard is the ultimate freestyle weapon for getting rad in the BC. If you're one of the 7% of backcountry riders who'll go backwards on purpose more than twice a season, this is the splitboard for you.
Rocker Type
CamRock – A unique rocker/camber flex pattern defined by evenly balanced tip and tail rocker and camber between the bindings. CamRock improves freestyle finesse by keeping your tips playful while maintaining the power and pop of camber underfoot.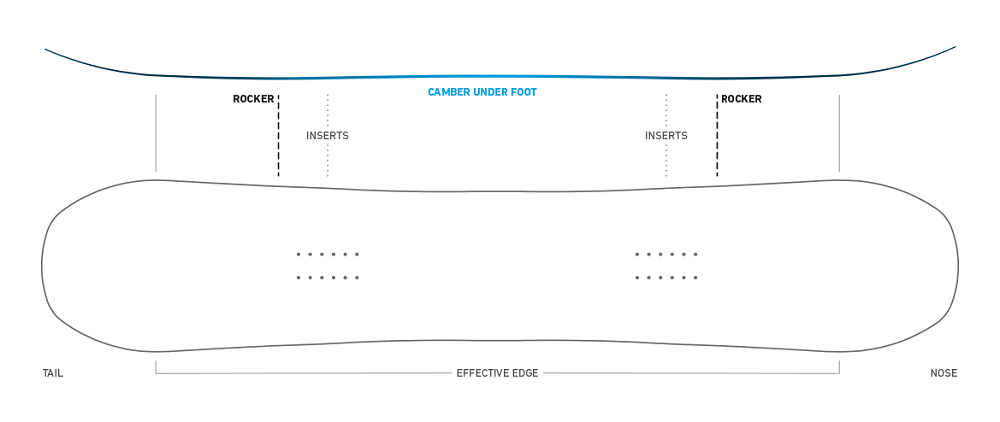 Flex
Flex Rating – 7 (1 Soft – 10 Stiff)
Forever Flex – All Jones boards are broken in using specialized machinery that mimics extreme riding use to help stabilize the flex and rocker profile of a board for it's lifetime.
Shape
3D Contour Base 2.0 – Moderate 3D-base contours featuring an even balance of 4mm spoon bevel in the nose and 4mm spoon bevel in the tail. Spoon bevel starts at the rocker point.

Progressive Sidecut – At the far ends of the sidecut, the radius is incrementally increased as the edge reaches the contact point. Gradually increasing the sidecut radius towards the contact point delivers smoother turn initiation and exit as the edge tracks in and out of the snow with a less abrupt transition.
Blunt Nose – "How a board glides in powder, crust, corn or any snow more than an inch deep is dictated by it's front contact point and just past it. Next time you are in soft snow watch how much snow comes over the corner of the nose near the contact point. The billowing snow coming out from behind the tip means you are plowing through it which is obviously slowing you down. By adding a blunt nose you get the float benefits of a much longer nose without the 'snow plow' rounded tip and it's extra swing weight." – Jeremy Jones
Core
FSC™ Control Split Core – Dual-density full premium wood core designed specifically for splitboards. 2:1 paulownia to poplar stringer ratio keeps core light yet ultra damp.
Laminates
Biax Fiberglass – A dual-direction, dual-layer, stitched fiberglass laminate that provides a fun, forgiving and snappy ride.
Stainless Steel Reinforcement – Stainless steel plates are embedded into the nose and tail for improved board tip durability.
Sidewalls
Recycled ABS – ABS plastic is one of the necessary evils of snowboard production. Jones improves the sustainability of their snowboards by using only recycled plastic.
Base
Sintered 8000 Base – New super durable material made from Ultra High Molecular Weight polyethylene and carbon.
Flip Flop Base – Flip-Flop bases improve board sustainability by reducing p-tex waste.
Edges
Inside and Outside Traction Tech 3.0 – Traction Tech 3.0 features three bumps per edge (front binding, board center, back binding). The middle bump is slightly bigger than the outside bumps for better grip.
Oversized Recycled Edges – All Jones boards are made with oversized recycled steel edges for added durability and improved production sustainability.
Topsheet
Eco-Plastic Topsheet – Bio-plastic topsheet made from Castor beans. This eco-material is ultralight, chip/scratch resistant and water/snow repellent (snow sticks less to topsheet).
Additional Features
Karakoram Ultra Clips – Ultra clips are the strongest, lowest profile splitboard clips in the world. They deliver unmatched compression between board halves and they are adjustable so you can maintain even compression as your splitboard ages.
Bolt-Less Bridge – The Bolt-Less Bridge eliminates split clip attachment hardware from the base of the board by re-profiling the wood core at the clips. The wood core under the clips is thicker providing better torsional stiffness and a more powerful connection at the split clips.
Quick Tension Tail – A built in climbing skin tension system with a pre-cut notch that eliminates the need for a traditional skin tail clip.
Bio Resin – All Jones boards are now built with bio-based, renewable epoxy instead of petroleum based epoxy. The raw materials used to make Super Sap Bio-Resin are co-products or waste products of other plant-based industrial processes. Producing Super Sap requires 33% less greenhouse gas emissions than conventional epoxy.
Factory Tuned – All Jones snowboards are factory de-tuned at the tip and tail so you can go right from the shop to the mountain.
Wend Natural Wax – Jones boards are ready to shred straight out of the shop and are factory waxed with WEND natural wax.
Binding Compatibility
Freeride / Freestyle Pack Inserts – Allows option to center or set back your stance on the sidecut as conditions demand.
Rocker Type:

Rocker/Camber/Rocker

Shape:

Directional Twin

Core/Laminates:

Metal, Wood
Size
157
159W
160
Effective Edge (mm)
1210
1230
1234
Tip Width (mm)
296
304
300
Waist Width (mm)
254
261
257
Tail Width (mm)
296
304
300
Sidecut Radius (m)
7.8
7.9
8.0
Stance Setback (mm)
0
0
0
Rider Weight (lbs)
130 – 180
150 – 200
150 – 200
Width
Regular
Regular